The Latvian Connection in the Business of Energy
by
|
published
November 1st, 2019
My meetings here in London are drawing to a close. By the time you are reading this, Marina and I will be in the air back to Florida.
Much has happened having a direct bearing on energy investment targets. In due course, I will be discussing all if it here in Oil & Energy Investor and in briefings to subscribers of my various services.
But there is one interesting development that emerged from the last if the six meetings finalized shortly before I arrived. As the schedule would have it, it turned out to be the one held first, on Tuesday morning local time.
This meeting took place in this brownstone that houses the Latvian Embassy.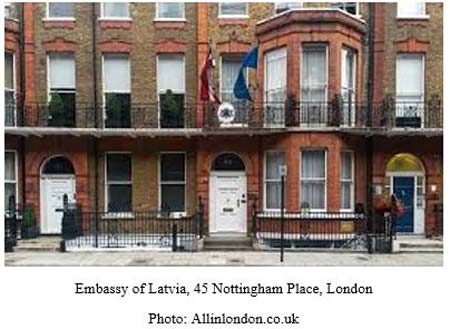 What transpired in this meeting illustrates why size may not matter as much these days in the dynamics emerging on global energy markets.
With a population of barely 2 million, Latvia is usually one of the three Baltic countries (Estonia and Lithuanian being the other two) relegated to a footnote in current affairs. Which is too bad, because anyone who has had the opportunity to visit the quaint capital city of Riga will come away with some pleasant memories. It's a charming place.
Latvia is a member of the European Union (EU) and NATO. And both organizations become more than just of passing interest when the conversation moves to this small country's huge eastern neighbor.
The Problem of Baltic Reliance on Russian Energy
Carrying on a conversation that includes the recent history between the two countries must include the period of Soviet occupation, which is still a bitter memory for Latvians who, these days, view a resurgent Russia with concern (and some residual anger).
So, I was intrigued to be invited to a meeting at the embassy by Baiba Braže, the Latvian Ambassador to the Court of St. James (the UK).
Turns out the invite resulted from a proposal I had made several years ago at a policy session in Krakow, Poland.
It seems that, when basic national interests are at stake, diplomats have long memories.
Aside from the ambassador and myself, there were 14 others in attendance. There were representatives from the diplomatic delegations of Latvia, Lithuania, Estonia, Norway, Poland, the British Foreign Office, as well as former UK and other foreign emissaries from the London-based Windsor Energy Group (a well-connected international mediator with whom I have had a close working relationship for almost two decades).
The subject was continued Baltic reliance on Russian sources of energy.
As such, this is hardly a new problem.
Reconsidering My Suggestion
Economies like Latvia are usually too small to be able to command much leverage in sourcing energy; the markets are simply not competitive. Russian natural gas giant Gazprom has controlled the trade with Latvia for some time, dictating price because of the lack of competition.
More recently, as our conversation in London revealed, development of a liquefied natural gas (LNG) receiving port at Riga is under serious consideration, as are regular purchases from the already operating Lithuanian LNG import terminal at Klaipeda.
Both options would allow Latvia to tie into expanding U.S. LNG exports to Europe, buttressed by additional pass through transit contracts (and later consignment swaps) via this port:
This is Swinoujscie, a Polish port on the Baltic. It is the site of the now operational PolskieLNG, SA receiving terminal for both Poland and greater Central/Western Europe. The terminal has received additional EU funding for expansion.
In addition to U.S. consignments, this port will also figure in some North African and Qatari deliveries. The Polish representative at our meeting calmly proclaimed that Swinoujscie would not only make Poland energy independent from any further imports from Russia but would also make excess gas available for shipment to other places in northern Europe (including Latvia).
Interesting, but hardly the reason I was invited.
The ambassador then turned to me with a smile and asked for a summary of my earlier suggestion. It involves a Latvian location named Incukalns. This just happens to be one of the largest underground natural gas storage facilities in Europe and the only functioning storage location in the Baltics.
The Russian Circle of Buying and Selling Gas
Incukalns has a capacity of more than 2.3 billion cubic meters. This is far more than the domestic needs of Latvia with the facility moving gas on to Estonia and even selling it back to northwestern Russia during the winter heating season.
This last element is interesting. It means that Russia sells gas to Latvia but is forced to buy back some of that volume for its own internal use. As I noted during the earlier session in Krakow, Incukalns provides Riga with leverage simply unavailable to other neighboring countries when negotiating with Gazprom.
The Russians certainly have understood this. As a result, the ownership structure of Latvijas Gaze, the Latvian state utility controlling Incukalns, includes Gazprom (along with German Uniper and the local Itera Latvija) in a combined 68% ownership.
My Krakow suggestion had been to liberalize the ownership structure, utilize the stored gas as collateral against other contracts and future transfers, develop an underlying valuation for the capacity, and establish a fungible mechanism to monetize transfers.
My plan was discussed but, given the ownership structure at the time, was considered to have a low probability of enactment.
Well, Latvijas Gaze has been obliged to transfer part of its assets, including Incukalns, to a new entity called Conexus as part of a planned market liberalization (like the one I had in mind). The three partners (Gazprom, Uniper, and Latvia's Itera Latvija) must divest shares in Conexus due to legal requirements.
Latvijas Gaze's restructuring has been part of a wider gas market reform approved by the Latvian parliament to meet EU regulations, but it also reduces dependence on energy supplies from Russia.
All of this sets the stage for an Incukalns under closer Latvian control having a greater impact on a wider regional gas transit system.
This developing network is enhanced by LNG systems in Lithuania and Poland (plus possible additions from the proposed LNG port in Riga), new pipeline projects from Estonia and Poland, with connections from the latter having an intriguing "backdoor" access to the broader existing pipeline network in Germany. That provides a position for a Latvian gas asset system centered about Incukalns having a more pivotal role in the availability and pricing of natural gas throughout much of northern Europe.
The next stage will be to formalize the new structure that will introduce new holding systems and more distant foreign interest. That, in turn, will involve an array for publicly traded companies, including several having high trading liquidity on the U.S. stock market.
It seems a great deal can happen once the right people get together in London.
And some of this will generate interesting investment moves for average investors in the U.S.
Sincerely,
Kent
P.S. The growing global LNG market means that U.S. LNG producers have the potential to benefit greatly. In fact, the move upward has already started, with dozens of new ports and LNG storage facilities being built as we speak. And the companies behind these new facilities have the potential to grow in tandem with the market. This company in particular has been shaking up the LNG sector, and over the past three months, it's seen a peak growth of 75% – and that's just the beginning. I expect to see some exciting developments as we move into 2020, and you could benefit. Just click here to get started.